In his 300th video (many of which were deleted by YouTube), retired medical doctor and international best-selling author, Dr Vernon Coleman, traces the history of the covid fraud from its beginnings, predicts what governments will do in 2022 and explains why we are winning the war.
Watch the video here:
Breaking World News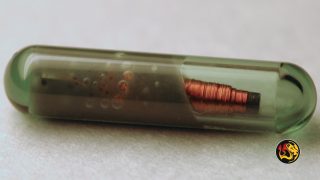 COVID Pass Injected As Microchip Raises Concerns (Worthy News In-Depth)
A Swedish firm producing injectable microchips for humans entered the New Year wishing that its product would be used globally as a COVID-19 health pass, despite worries among Christians.
French President: 'Ban Unvaccinated From Social Life'
President Emmanuel Macron has warned those unvaccinated against COVID-19 that they will be banned from social life in the European Union country.
US-led coalition carries out strikes against 'imminent threat' in Syria
The US-led coalition on Tuesday carried out strikes against rocket sites in Syria that posed a threat, a coalition official said.
US-led coalition: Attack with 2 armed drones foiled in Iraq
Two explosives-laden drones targeting an Iraqi military base housing U.S. troops in western Anbar province were destroyed on Tuesday, a coalition official said.
Latest World News Headlines
North Korea fires suspected ballistic missile into sea – January 5, 2022
Trump Endorses Hungary's Prime Minister – January 4, 2022
Biden: 'Decisive Response If Russia Invades Ukraine' – January 4, 2022
Iran Nuclear Negotiations to Continue in Vienna – January 4, 2022
Saudi defenses intercept, destroy five drones targeting the kingdom – January 4, 2022
Five Global Powers Pledge to Avoid Nuclear Conflict – January 4, 2022
Troubled World Rings In New Year – January 3, 2022
'God Calms Storm For Philippines Ferry' – January 3, 2022
Breaking Israel News
IDF: Hezbollah drone downed after flying over border from Lebanon
Israeli forces on Tuesday downed a drone that Lebanon's Hezbollah terror group flew over the border, the military said.
Tens of thousands race for fourth COVID shot as Israeli campaign blazes ahead
Thousands of people in Israel got their fourth dose of Pfizer's coronavirus vaccine Monday, as the country became the first in the world to begin distributing extra boosters to its elderly population and health workers.
Latest Israel News Headlines
IDF strikes Gaza in retaliation to rocket fire towards central Israel – January 2, 2022
Bennett announces approval of 4th vaccine doses for over-60s, medical workers – January 2, 2022
'Flurona': Israel records its first case of patient with COVID and flu at same time – January 2, 2022
Palestinian Authority's Abbas warns Putin: West Bank poised for an 'explosion' – December 31, 2021
'Lasers Will Change the Future Battlefield,' Says Israeli Air Force Commander – December 31, 2021
Breaking U.S. News
Manchin on Biden's spending bill: 'No negotiation going on'
President Joe Biden's social and climate spending bill is making zero progress in the Senate, where Democratic holdout Joe Manchin said Tuesday there are "no discussions" going on about reviving it.
The Great Resignation: Record 4.5 million Americans quit jobs in November
The number of Americans voluntarily quitting their jobs surged to a record 4.5 million in November, a show of confidence in the labor market and an indication that higher wages could prevail for a while.
Latest U.S. News Headlines
Trump cancels rally on anniversary of Jan. 6 Capitol riot – January 5, 2022
Snowstorm blamed for three deaths, strands motorists overnight in Virginia in 48-mile backup – January 5, 2022
Jan. 6 Capitol riot a year later: Over 700 rioters charged, DOJ won't say if feds were involved – January 5, 2022
Winter Storm Hits Eastern US, Hundreds of Thousands Without Power – January 4, 2022
Federal court sides with Navy SEALs seeking religious exemption to COVID-19 vaccination order – January 4, 2022
FDA backs Pfizer boosters for more teens as Omicron surges in US – January 4, 2022
More than 500 homes burned down by Colorado fires as winter storm approaches – January 2, 2022
U.S. military has yet to approve its first religious exemption to COVID vaccine mandate – January 2, 2022
52,000 Afghan evacuees released into U.S. in 2021 – January 2, 2022
Senate GOP preps to nullify Biden's vaccine mandate for 17 million healthcare workers – December 31, 2021
Breaking Christian News
Iran Frees Nine Christian Converts
Iran released nine Christian converts from prison, including a pastor, after the Islamic nation's Supreme Court said their involvement in house churches doesn't threaten national security, well-informed Christians told Worthy News Tuesday.
Kenya: Six Christians killed in Islamic terror attack; "please pray"
Six Christians were murdered in Kenya during a terrorist attack by al-Shabaab Islamic militants in the early hours of January 3, International Christian Concern (ICC) reports. Affiliated with Al Qaeda, the Somali-based al-Shabaab group has now carried out four new-year terror attacks in Kenya since 2016.
China arrests Christian citizens for attending Gospel event in Malaysia
In its ongoing bid to suppress Christianity in China, the Chinese communist regime last year arrested a number of believers for traveling to Malaysia to attend a conference held by well-known Chinese evangelist Tang Chongrong in 2020, Bitter Winter reported Monday.
Latest Christian News Headlines
Iran Grants New Year's Leave To Jailed Convert And Other Christian Prisoners – January 5, 2022
Myanmar: Burmese Army continues to burn churches and homes in Christian state – January 4, 2022
Afghan Christian refugees speak of their fear and anxiety – January 4, 2022
Alabama: Pastor's wife killed by stray bullet during Bible study in Mobile County – January 4, 2022
Uganda: New Christians driven from their homes by Islamic extremists – January 4, 2022
China Christians Face Tough New Year – January 2, 2022
Nigeria: US and international community do nothing as slaughter of Christians continues – December 31, 2021
Pakistan: Court returns Christian girl to parents after her abduction and forced marriage to Muslim man – December 31, 2021
Iran Frees Christian House Church Pastor – December 31, 2021