Breaking World News
The following info is taken in whole or part from Worthy News Ministries.
Ukraine Warns Against Apocalyptic Predictions Of Russian Invasion
Ukraine's government urged its citizens on Sunday not to believe "apocalyptic predictions" after U.S. officials warned that Russia is nearly ready for an invasion that could claim 85,000 lives.
WHO director suggests 'plausible endgame' for pandemic in Europe
A major World Health Organization official this week said that Europe could be looking at a significant shift in the pandemic crisis as the Omicron surge continues to wane and high levels of vaccinations and natural immunity offer broad protection against the virus.
Russian forces at 70% of level needed for full Ukraine invasion, U.S. officials say
Russia has in place about 70% of the combat power it believes it would need for a full-scale invasion of Ukraine and is sending more battalion tactical groups to the border with its neighbor, two U.S. officials said on Saturday.
Latest World News Headlines
US Troops Arrive in Poland to Reinforce Eastern Europe Allies Amid Russian Military Buildup – February 6, 2022
Iran 'society set to explode' while Biden unfreezes $29 billion for regime – February 6, 2022
Trucker protests: Ottawa mayor declares state of emergency over 'serious danger' as demonstrations spread – February 6, 2022
Biden Administration Waives Sanctions On Iran As Nuclear Deal Deadline Looms – February 6, 2022
Trucker 'Freedom Convoy' sparks more controversy after GoFundMe refunds $10 million – February 6, 2022
Britain's Crown Prince Thanks Queen For 70 Years Reign – February 6, 2022
Morocco Grieves As Boy Trapped In Well Dies – February 6, 2022
China Violently Interrupts Dutch Broadcast – February 6, 2022
Vladimir Putin Sleeps Through Ukraine Conflict – February 4, 2022
Breaking Israel News
In phone call, Bennett and Biden discuss 'steps to block Iranian nuclear program'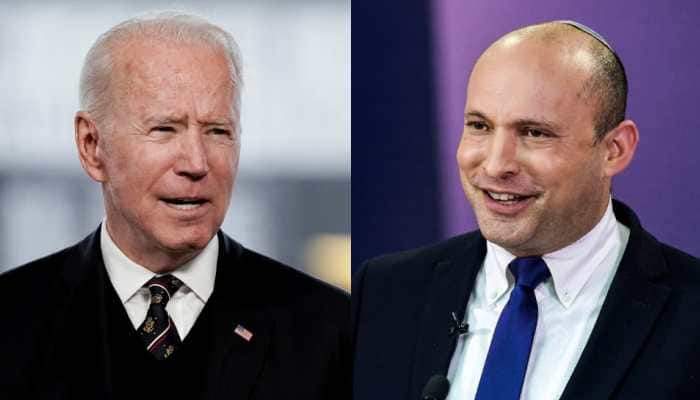 Prime Minister Naftali Bennett and US President Joe Biden held a rare phone call Sunday evening, discussing the Iranian nuclear threat, the campaign against the Islamic State, the Russian-Ukraine conflict and other security challenges.
Bennett: Pending Iran deal will 'damage' Israel's ability to deal with nukes
Israeli Prime Minister Naftali Bennett warned on Sunday that the deal being negotiated with Iran in Vienna could "damage" Israel's ability to deal with the country's nuclear program.
Latest Israel News Headlines
Gantz's Bahrain visit signals to Iran the alliance against it is growing and public – February 3, 2022
Israeli study offers strongest proof yet of vitamin D's power to fight COVID – February 3, 2022
Israel upholds use of surveillance technology on protesters – February 2, 2022
Israel Air Force drilled 'massive attack on Iran' in presence of US officer – report – February 2, 2022
Laser-based defense array to be deployed within year, Bennett says, speeding rollout – February 2, 2022
Breaking U.S. News
COVID cases continue sharp decline in nearly every state
SARS-CoV-2 cases are continuing a steep downward trend in nearly every state in the U.S., tracking with late predictions from numerous experts that the Omicron surge appears to have largely peaked.
Biden's ​'Reproductive Healthcare Access Task Force' criticized by pro-life groups
Pro-life advocates are criticizing the Biden administration's move to establish a "reproductive healthcare access task force" after 2021 was record year for pro-life legislation at the state level.
Latest U.S. News Headlines
55 federal agencies tracking religious objection requests amid concern from conservatives – February 6, 2022
CDC: 80.2% of Americans 5 and Older Have Had at Least One COVID-19 Shot – February 6, 2022
Mass Shooting Near Virginia Tech University; 1 Killed, Several Injured – February 6, 2022
Nearly 250,000 in U.S. Without Power as Winter Storm Batters States – February 3, 2022
House GOP task force takes on FBI surveillance abuses, intrusions on Americans' freedoms – February 3, 2022
New York governor approves congressional map that could flip three seats to Democrats – February 3, 2022
Multiple Historically Black Colleges and Universities (HBCUs) receive bomb threats – February 3, 2022
U.S. Army plans to discharge soldiers who refuse COVID vaccine – February 2, 2022
Winter Storm Landon Spreading a 2,000 Mile-Long Mess of Heavy Snow, Ice From Texas to the Midwest and Northeast – February 2, 2022
Florida: Jews blamed for pandemic in flyers sent to homes, Nazi demonstrators stage anti-Semitic protest – February 2, 2022
Breaking Christian News
Uganda: Evangelist beaten and left to die by Islamic extremists
Ugandan evangelist Charles Kamya was beaten unconscious and left for dead in Kampala, Uganda last week by Islamic extremists enraged at his preaching the Gospel, Morning Star News (MSN) reports. Although Muslims are a small minority in Uganda, Christians have come under increasing attack by Islamic extremists there.
India: Christians pray and fast for unity as persecution intensifies
As persecution against Christians in India intensifies, many Indian believers spent Sunday 30 January, the anniversary of Mahatma Gandhi's assassination in 1948, in prayer and fasting for peace and unity in their country, Christian Today (CT) reports.
Cuba: Head of Protestant denomination placed under house arrest
Cuba's communist government has placed the President of the Christian Reformed Church of Cuba under house arrest on apparently trumped-up charges of receiving illegal goods, Christian Solidarity Worldwide (CSW) reports.
Latest Christian News Headlines
'New York Church Pastor Killed By Son' – February 3, 2022
Liberia: Twenty-nine killed in stampede at Christian worship event – February 1, 2022
UK: Christian therapist threatens to sue peers over their opposition to conversion therapy – February 1, 2022
Iran To Review Jail Sentences Of Christians – February 1, 2022
Nigeria Frees Pro-Christian Journalist On Bail – February 1, 2022
Iran continues to persecute Christians, new report shows – January 31, 2022
Nigeria: 11 Christians murdered in attack by Fulani militants – January 31, 2022
Kenya: Christians vulnerable as al-Shabaab terror attacks continue; "the Body of Christ is hurting" – January 31, 2022
Uganda: Christian pastor dies from beating by Muslim relatives – January 31, 2022
Pakistan Pastor Shot And Killed; Christians Mourn – January 31, 2022